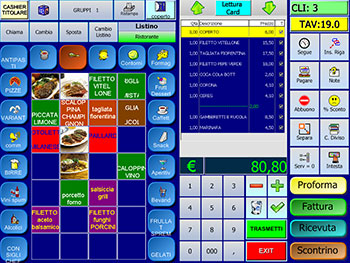 DEDICATED TO RESTAURANTS PIZZA PUB ICE CREAM
ONETOUCH eat It is the ideal solution for any restaurant is to approach for the first time in the world of electronic account with the use of the touch screen, or the electronic controls. through the use of touchscreen connected to each other in the halls with steel tumbler for waiters or by means of electronic notebooks in use to the same, that without leaving the room comfortably transmit the commands in the wards and the checkout .
Successfully used in hotels, restaurants, gourmet restaurants, sushi restaurant, bingo halls pizzerias, bars, pubs, ice cream parlors, cafes and disco bars.

A clear daily monitoring of food & amp operations; beverage and inventory control for units or BOM,
together with numerous statistics, you can achieve profits in the current market,
become extremely competitive.
One software that lets in the light version to manage cash and sales of the small restaurant,
and in the full version to integrate the use of hand-held R / F or wireless for the collection room in order,
with unauthorized transaction in the production centers (kitchen, bar, pizzeria and cash for the bill).
MANAGEMENT SYSTEM, ADVANCED TECHNOLOGY,
DOES NOT EAT THE CLASSICAL STRUCTURE OF LOCAL HAVING AN INTERFACE
VERY CLOSE TO YOU.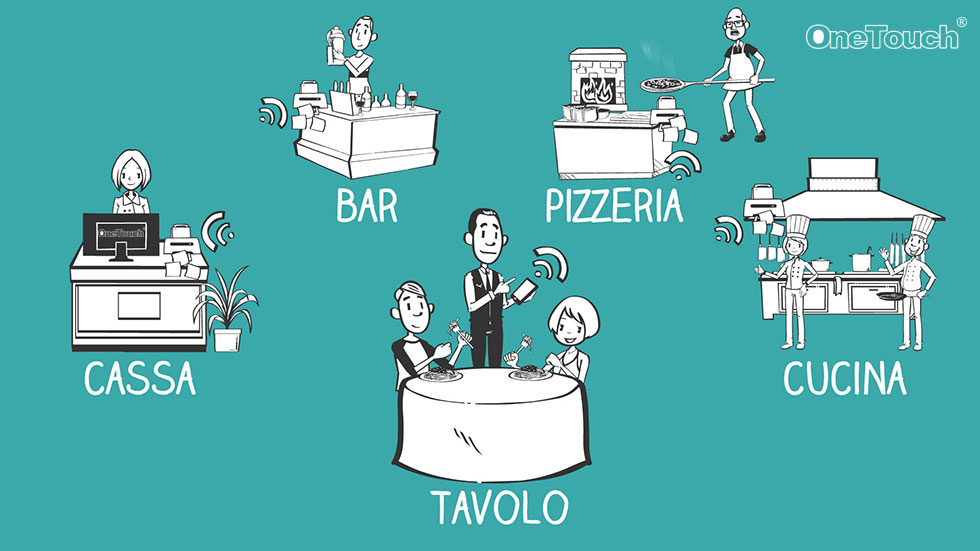 separate accounts, splitting the Roman, pre-receipts management, food stamps, weight management,
Management bar codes, management variants, fast receipt, home management.
personnel management through a special card which, in addition to recording the entrances and exits, allows you to manage the employee self-consumption.
The statistics available to the user are able to satisfy the most demanding customers:
are many in fact, possible to view and print reports in order to make it easier,
quick and easy control of the asset.

A special archive password protected log all negative cash transactions
in order to allow the property total control of the case and of the movements.
Solve the problem of large groups with more local or franchise with the ability to centralize the data to a central office, through the Internet / Intranet technologies
made with the best VPN technology products.
E 'can then remotely control all outlets with its data transfer.
Software for simple and complete restaurants that lets you manage an unlimited number of tables,
displayed on the interface of the program graphics. This allows to obtain immediately the situation of the tables.
complete control of the movements made by the operators. Possibility of limiting or inhibiting the modification of already billed,
the application of discounts, offers, cancellations and adjustments in relation to the permissions assigned to the group of operators.
Association table / waiter (rank)

E 'can be identified as "sold out" one or more products.
The possibility of product packages configuration (promotional packages, menus, etc.). Fixed or multiple choice composition,
with the predetermined price management or in proportion to the individual components.
POS configuration in touchscreen mode: management of points of sale to the public such as Bar, Case, Input, Take-away.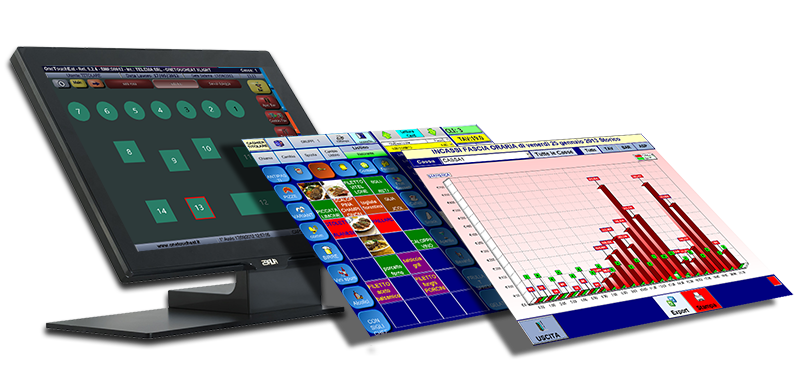 LIGHT VERSION
THE SOLUTION ENTRY

ADVANCED VERSION
COMPLETE FORM OF HANDHELD RADIO FREQUENCY AND WIRELESS